STOP Golfer's Crow's Feet Before They Form Permanent Lines!
You love the game of golf.
It's relaxing and gives you a chance to really challenge yourself.
Sure, you are playing against the others in your group, but—ultimately—your game is an effort to best your last run on this course.
Squinting, smiling, frowning as you focus—all of these motions impact your face.
You don't want to be the one who won't participate because of beauty routines, but you also don't want to be the one who poo-poos the beauty routines and starts to look a little worse for wear.
So, rather than give up your golf game or stress about how the sun and facial expressions change your facial lines, you need to find a product that supports your face.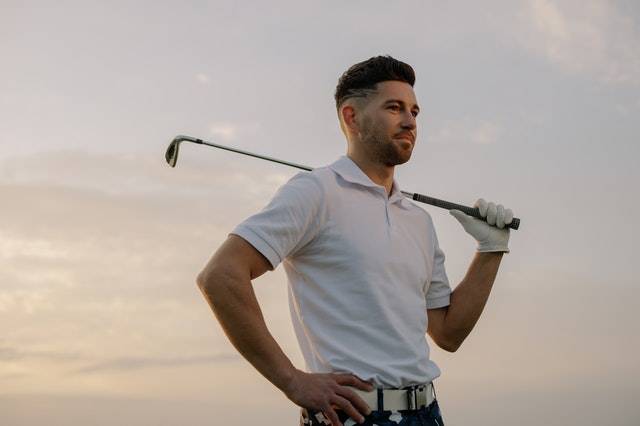 As you deal with the intense sun and focus of the game, your face tends to enter a dramatic squint. 
What are Golfer's Crow's Feet?
This isn't a medical term, but golfer's crow's feet is something we see a lot.
As you deal with the intense sun and focus of the game, your face tends to enter a dramatic squint.
Even with shades on, you are probably squinting just to find the ball.
When you squint or smile, lines form around your eyes.
These lines are often called crows feet because of how the lines all project from the same starting point (the corner of the eye).
These lines are formed by a number of events occurring at the same time:
Your aging skin isn't producing the same levels of collagen and elastin it needs to bounce back
Regular use of the same muscles creates deep lines that the skin cannot recover from.
Increased exposure to the sun has made the skin leathery and deeply dehydrated.
There are a lot of frustrated women out there who feel like their crow's feet lines are the deepest grooves on their face.
Can Crow's Feet Be Eliminated?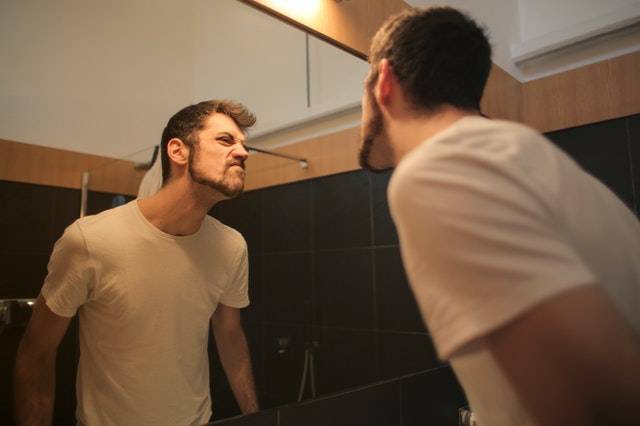 you can prevent the worsening of crow's feet with your daily habits.
The short answer is: no.
You cannot stop all signs of aging just by following a simple plan or applying a certain product.
BUT, you can prevent the worsening of crow's feet with your daily habits.
Start following a healthy diet.
Protect yourself in the sun.
Use SPF Sunscreen around your eyes.
Wear hats and stay out of direct sunlight.
Choose a lotion formulated to help support your skin.
Drink plenty of water.
Use a high-quality lotion.
It's always easier to stop damage than to try and repair it after the damage has been done.
In the case of crow's feet, this is very true.
If you wait until there is extensive damage, you won't be able to eliminate them—though you could reduce the lines.
Choosing the Right Preventative Routine
As a golfer, you already understand this concept.
It's much harder to recover from overuse injuries in your back, shoulders, knees or wrists.
It is FAR easier to prevent overuse by establishing a routine and taking preventative measures (like stretching and protecting the joint).
The same thing happens with your skin.
You can either follow preventative care routines now, or face damage when it's already severe.
Your skincare regimen could make it harder for your skin to bounce back—or it could make it easier.
Either the products are going to clean without causing damage from harsh chemicals, or they are going to clean in a way that further strips and damages the skin.
The products could either form a protective barrier to help stop the elements and sun from creating further damage—or the products may create a coat that makes it hard for your skin to breathe.
But, we also recommend you don't just stop with the face.
If your face is dealing with a lot of damage, then so is your neck.
Often forgotten, the neck and chest are going to have deep lines and wrinkles if you don't care for the skin there.
And, while you want the face to look radiant and youthful, your neck has to match!
Having a crepey neck paired with a smooth and tight face would just look odd.
It's like not blending your foundation at all and having a hard line under your jaw.
You will look like you are wearing a mask.
So, to stop crow's feet, you can start with the neck trio package.
Let's check it out to see why.
Products for Protecting Golfer Skin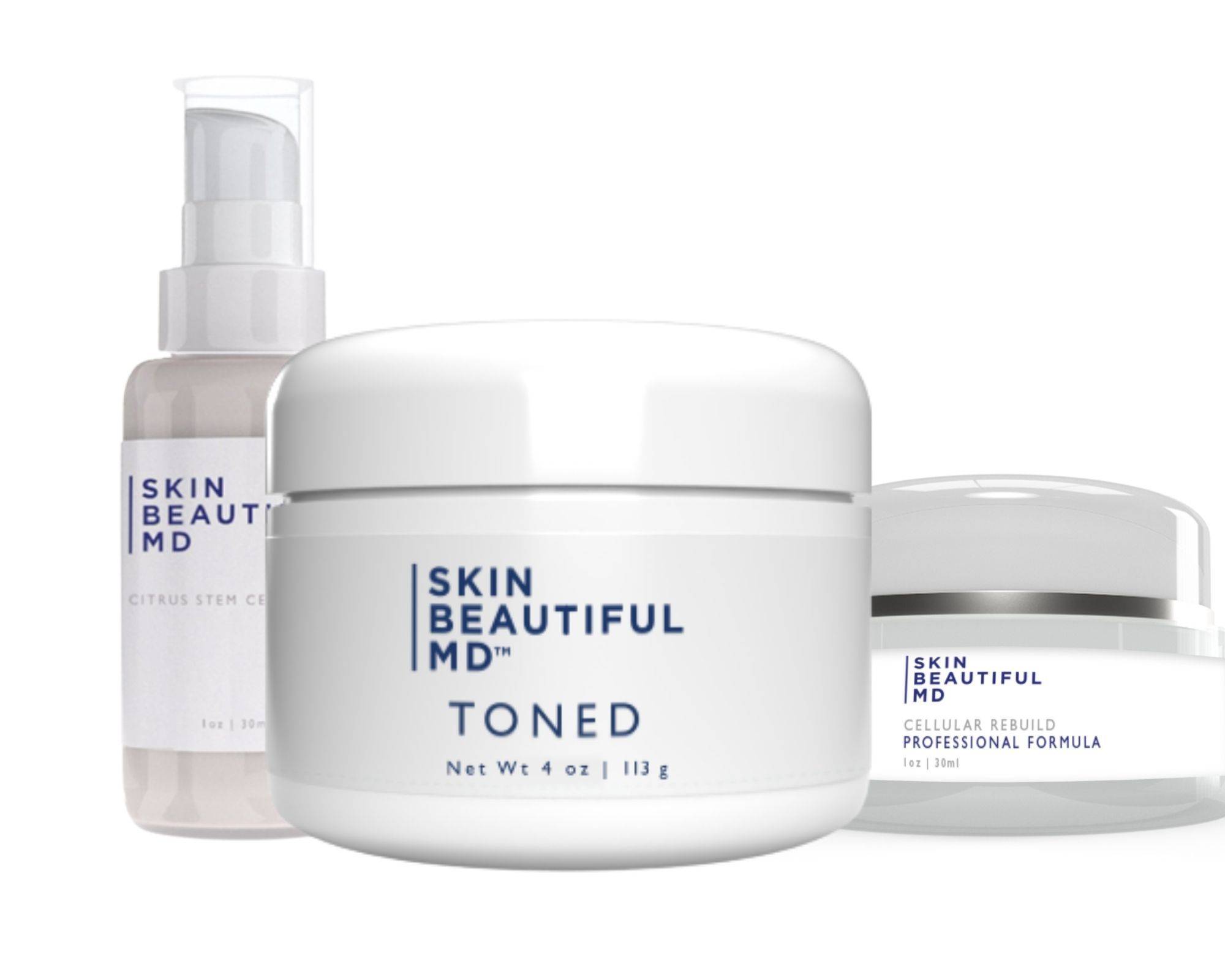 Hopefully, you already know by now that skincare, healthy diet and staying hydrated are all really important "adulting" things to do.
You need to act responsibly in order to keep your one and only body in good working order.
When it comes to supportive skincare products, Skin Beautiful MD is here to pick up the slack.
Our products are designed to tighten and tone—eliminating lines and wrinkles over time.
These are not magical products, though they may feel magical when you put them on.
Our Ultimate Neck and Face Care Packis centered around TONED—the product that helps your skin burn more fat and store less for later.
TONED uses stem cell technology and peptides to communicate to your body that the fat isn't wanted. Instead, it helps the body start replenishing the lacking levels of cortisol and elastin.
Day and Night Cream is really the first product you will use to help boost your moisture levels deep within before sealing it with TONED.
The intensive qualities of this cream will help restore the youthful appearance of glowing and healthy (hydrated) skin.
Citrus Stem Cell Miracle is a GREAT one specifically for the crow's feet.
This serum revitalizes the skin with the help of natural plant stem cells.
Not only will these three products help heal your skin from the deepest cellular levels out, but they also help protect your skin from the harsh elements—no matter what Mother Nature decides to throw at you.
Now, you can concentrate and play your game without worrying about how it's going to affect your face!
In order to truly relax into your deep place of focus, you need to be able to let go of these worries.
And, Skin Beautiful MD has just that—the kind of product that will help stay your concerns.
We have a lot of science backing our ingredients as being truly effective in supporting your skin.
Repeat customers come back because they know this stuff works.
Don't age your face and DON'T stop your golf game.
You can figuratively have your cake and eat it too!
Just get the Skin Beautiful MD Ultimate Neck and Face Pack.
Apply the products twice a day, applying the Night/Day Cream and Citrus Stem Cell Miracle after every golf game.
It only takes a little for these products to go a long way and make a big difference.
Because of how good they feel, you will be tempted to use them all up in one sitting, but DON'T.
Regular, consistent use is going to make the biggest difference.
And, if you don't LOVE it after a whole MONTH of regular use, then we will give you ALL of your money back with no returns required.
That's how much we believe in the power of our products.