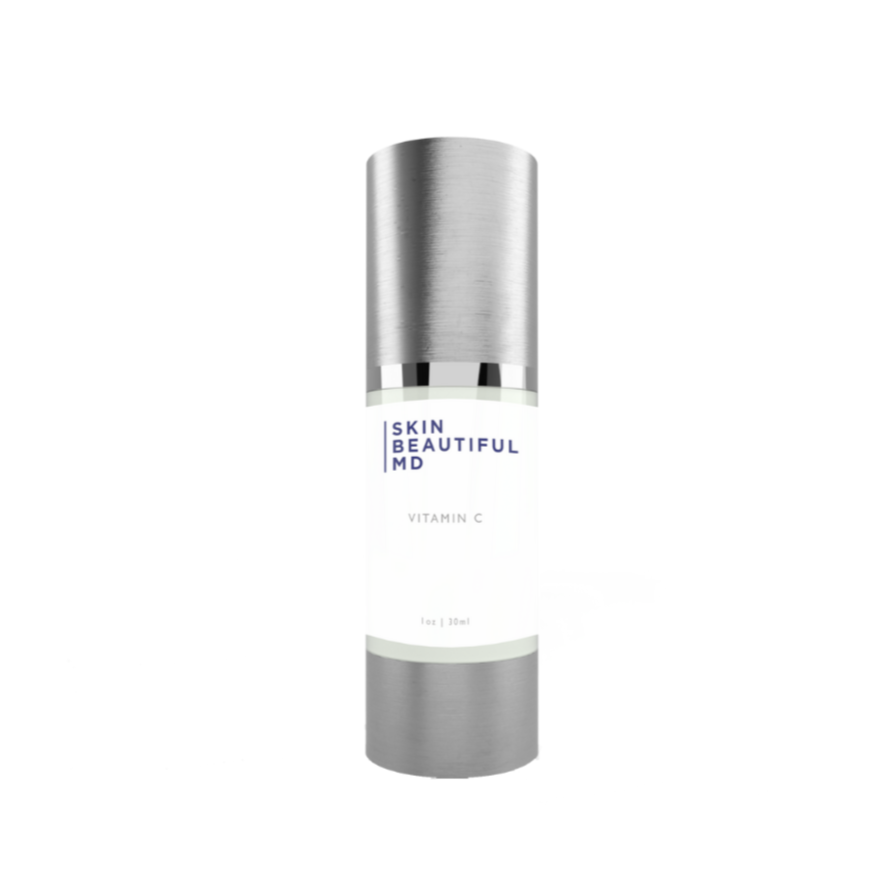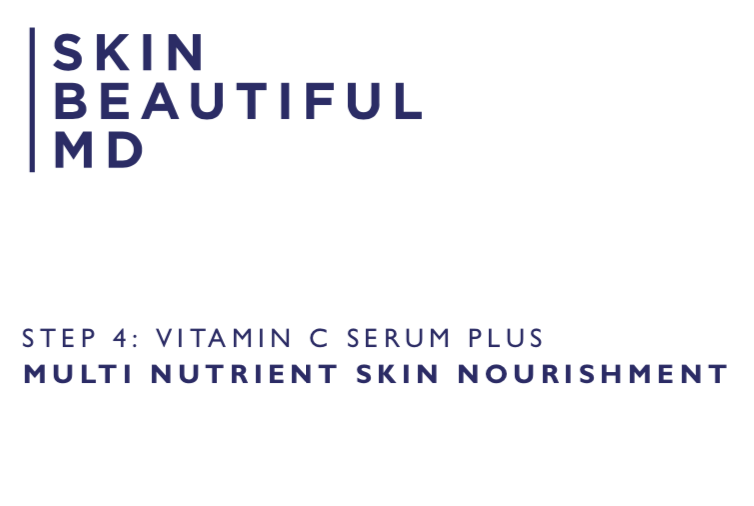 Step 4: Skin Beautiful MD Vitamin C Serum Plus (Helps Repair Deep Sun Damage)
This best selling formula contains Vitamin C, Vitamin A, Vitamin E combined with a blend of botanical extracts, which include a complex of Jojoba Seed Oil, D-Panthenol, Thiotain, and Retinol Palmitate provide balanced nourishment and help replenish the skin's appearance due to free radical damage.  
This formula helps your skin renew, gently and daily.   Use it twice a day as part of your skin "base layer."  It can also be used on all parts of your body, with TONED cream and others in our line.  
Vitamin C is essential for the production of collagen in the body. This is a fairly recent discovery, which is why you are seeing Vitamin C serums become popular. However, unlike other leading serums, our formula contains a broad array of ingredients that work together to give quick results
This ingredient combo forms the basis of highly effective, non-toxic ingredient mix that the best integrative MD's out there recommend to their own patients. This vitamin and botanical formula is also combined with 3 patented functional molecules which we detail for you below. 
This product is designed to be used at least once a day to help rebuild and protect the skin of your face and the neck. We offer a 100% keep the product guarantee. The only catch is that you have to use it for 30 days. This is designed to work in conjunction with the Skin Beautiful MD Night Cream. 
The 3 other ingredients in this Vitamin C Serum are:
1. The star ingredient in the Vitamin C Serum is called GATULINE IN-TENSE. This is one of the most interesting ingredients we have come across.  This is an extremely rapid and effective firming ingredient. Its action on the supporting tissue rapidly reorganizes collagen fibers and visibly smoothes the skin.
Gatuline In-Tense helps to fade out all wrinkles and reduces the most obvious sign of aging, the creased appearance of the skin. It has some benefits which work almost instantly, and others which work over time. It is made by a French company. 
With age, the skin loses its elasticity and firmness. Cell turnover slows down, collagen production decreases. But above all, the supporting tissue is disorganized, leading to slackening skin and the appearance of increasingly deep wrinkles.
Gatuline In-tense is a concentrated oily extract from the upper part of the Spilanthes acmella plant (Asteraceae family), also called Paracress. This plant, which mainly grows in subtropical regions, is widespread and appreciated for its flavor enhancement properties
The Extra Cellular Matrix (ECM), the supporting tissue for the skin, plays a major structural role on the skin architecture. The ECM can be simply described as a "dermal gel" consisting of water, glycosaminoglycanes (GAGs) and proteoglycanes, in which bathe fibroblasts and protein fibers, mainly collagen and elastin. Fibroblasts, key cells in the dermis, permanently interact with collagen fibers to create a genuine threedimensional network. Through their mobility and contractile properties, fibroblasts organize this supporting network by pulling on the collagen fibers. This cellular dynamism reorganizes and tightens this dermal web, thus firming the skin.
With age, all the components of the ECM are diminished. Cellular dynamism, like all the interactions between cells and supporting fibers, is reduced. The result is a disorganization of the collagen network. The skin loses its mechanical properties and reveals the signs of aging. GATULINE IN-TENSE has demonstrated powerful action to boost this cellular dynamism and thus reorganize and tighten this collagen fiber network.
By stimulating the fibroblast biomechanical functions, GATULINE IN-TENSE will reorganize the dermis architecture. The skin density and firmness are then rapidly enhanced, leading to a reduction in skin roughness.
Clinical Studies have shown from the first application, 53% of volunteers in a study found their skin was firmer and 61% said that their features had been smoothed. After 28 days of use, those numbers went up to 70% and 80% respectively. 
2. The second pharma grade ingredient is GluCare, which is also used in the night cream. It rebuilds and repairs skin at the cellular level. It is sourced from a company in Germany. This anchor ingredient helps to revitalize the skins own active defense system, reduces skin sensitivity, and increases the ability of the skin to repair itself. It has very strong anti-aging properties. It has been shown in studies to increase restorative and protective cell function by 40-80 percent.
3. Also featured in the night cream, Trylagen-PCB is a combination of proteins and peptides that increases the skin's collagen production, reducing wrinkles and restoring skin to a more youthful appearance.
This ingredient is a powerful collagen booster, having been shown to increase different types of collagen production by 80-300% in just 15 days. It also showed a 29% decrease in wrinkle depth after 30 days. Studies like this are the reason we only refund this product after 30 days of use. As you'll see, this works, and we want you all to get a chance to experience this.
Directions: Apply at least once daily, especially in the morning, to cleansed and toned skin. Massage gently with fingertips into face and neck using upward movements and allow to absorb fully before applying moisturizer. For best protective results, use with a moisturizer containing sunscreen.