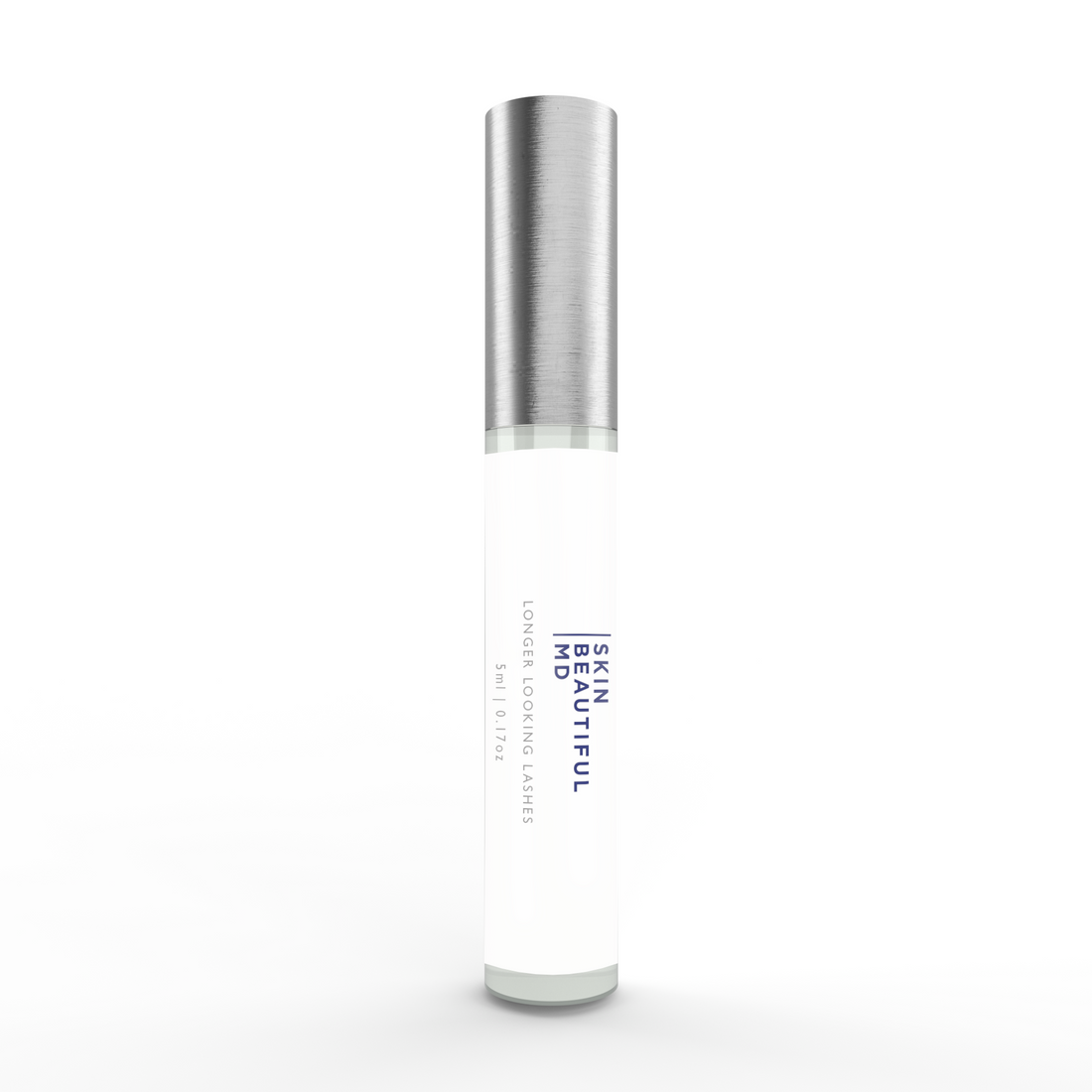 Skin Beautiful MD Eyelash and Brow Intensifier Formula
LASH AND BROW INTENSIFIER WITH VITAMIN E
What It Does:
Proteins, amino acids, vitamins, and co-enzymes combine to strengthen the hair follicles of eyelashes and eyebrows, encouraging them to grow in thicker, fuller, and longer. Nourishing ingredients are delivered straight to the skin containing the hair follicle, nurturing hair at the source to help it grow out stronger. The Lash and Brow Intensifier works overnight to promote hair growth; results can be seen in as little as two weeks with consistent use
How it Works:
The Lash and Brow Intensifier contains Lipogard, a balanced mixture of CoQ10 and vitamin E that replenishes nutrients that are reduced during the natural aging process while protecting skin and cultivating healthier hair follicles. The combination of Lipogard and the other nourishing ingredients helps to restore brows and lashes, lengthening, strengthening, and filling in sparse areas for fuller growth.
Lipogard is an antioxidant blend of CoQ10 and vitamin E that restores and protects skin lipids, impedes collagen breakdown, and  fights wrinkles, all while hydrating and nourishing to foster healthy hair growth.
Key Ingredient: Widelash™ is a growth stimulator for eyelashes and eyebrows that lengthens and strengthens by nourishing the hair follicles with the naturally occurring tripeptide GHK.  Up to 40% longer and thicker in 30 days. (click link to read clinical study)

Fision KeraVeg18 is a vegetable alternative to keratin, the fibrous protein that makes up human hair; it consists of vegetable amino acids that mimic those in human hair, strengthening hair and improving its elasticity.
NaturaBase is a stable carrier base for topical skin applications that contains 94% natural ingredients and provides a stable emulsion for delivery of the formulations in the Lash and Brow Intensifier.
Ingredients: Water, Glycerin, Propylene Glycol, Panthenol, Biotinoyl Tripeptide-1, Xanthan Gum, Polysorbate 80, Diazolidinyl Urea, Iodopropynyl Butylcarbamate, Potassium Sorbate, Wheat Amino Acids, Soy Amino Acids, Arginine HCL, Serine, Threonine, Sodium EDTA, Tocopheryl Acetate (Vitamin E), Ubiquinone, Squalane.
Directions:
Apply a thin sweep to the upper lash line and sparse areas of the brow to clean skin once daily, at night. Allow to fully absorb before proceeding with nighttime skincare regimen. Avoid direct contact with eyes.