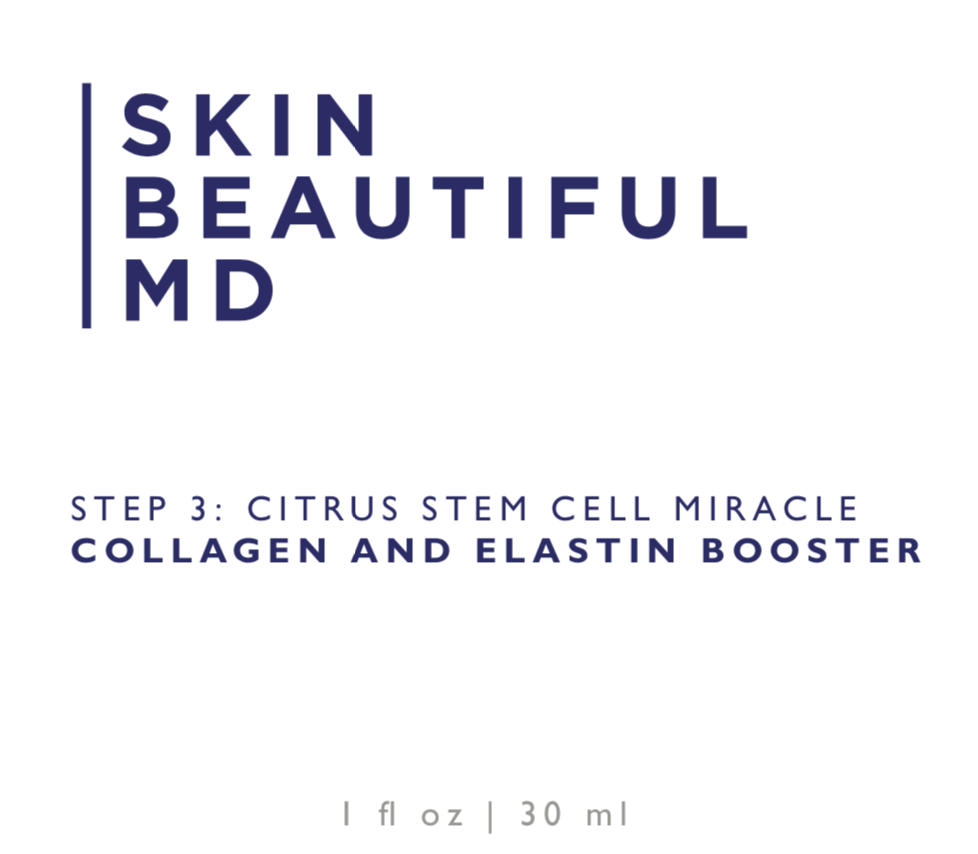 Skin Beautiful MD Citrus Stem Cell Miracle
This is a cutting edge formula that helps boost Elastin and Collagen levels in your skin, and features Stem Cell technology from a well known lab in Barcelona, Spain.  Our customers report that this helps their skin "glow and look healthy." 
Elastin is what helps your skin stretch and then quickly return to form. When you rebuild collagen, you also want to target Elastin levels. This formula has the unique ability to turn on the genes which produce more Elastin, giving your skin a bounce you haven't seen in years.
Stem Cells taken from Oranges have the unique ability to grow new skin cells.  This helps dramatically restore skin elasticity, as well as repair sun damage.  The plant stem cells are combined with 5% Vitamin C and Caribbean Orange Oil.

The skin complexion is more even.

Most importantly it recovered the elasticity it had 12 years ago.

And firmness also improved. Wrinkles and fine lines are minimized.

The inner structure of the skin is organized which directly improve the appearance of the skin on the outside.

Caribbean Orange Oil gives this product an incredible smell. This is another super nutrient to transform your skin from Skin Beautiful MD.
The instant you smell this, you'll be hooked. I keep this in my purse and share this with everyone I know. You'll want to share this with your friends and family.  
This is what the skin looks like after 56 days use.
My skin feels softer and my wrinkles don't look quite as deep. Good stuff!!
Skin Beautiful MD Citrus Stem Cell Miracle
I've been using the product for a few weeks and have noticed no change in my skin. The serum itself is nice but I want to see some benefits.
I really love your products.
Oui! Bonne odeur, bonnes choses.
Love this
I use all the products and have since their inception, so it's hard to say which is doing the most, but I buy the Citrus Stem in three sets to make sure I am NEVER without it! It goes on like silk and has a fresh, refreshing scent and my skin is just lovely since I started with this routine - it even catches me by surprise some days! The sales make it super affordable, too. Seriously, don't you be without it either. You won't be sorry for keeping it in stock. BTW, I'm in my fifties and my skin has never looked better.