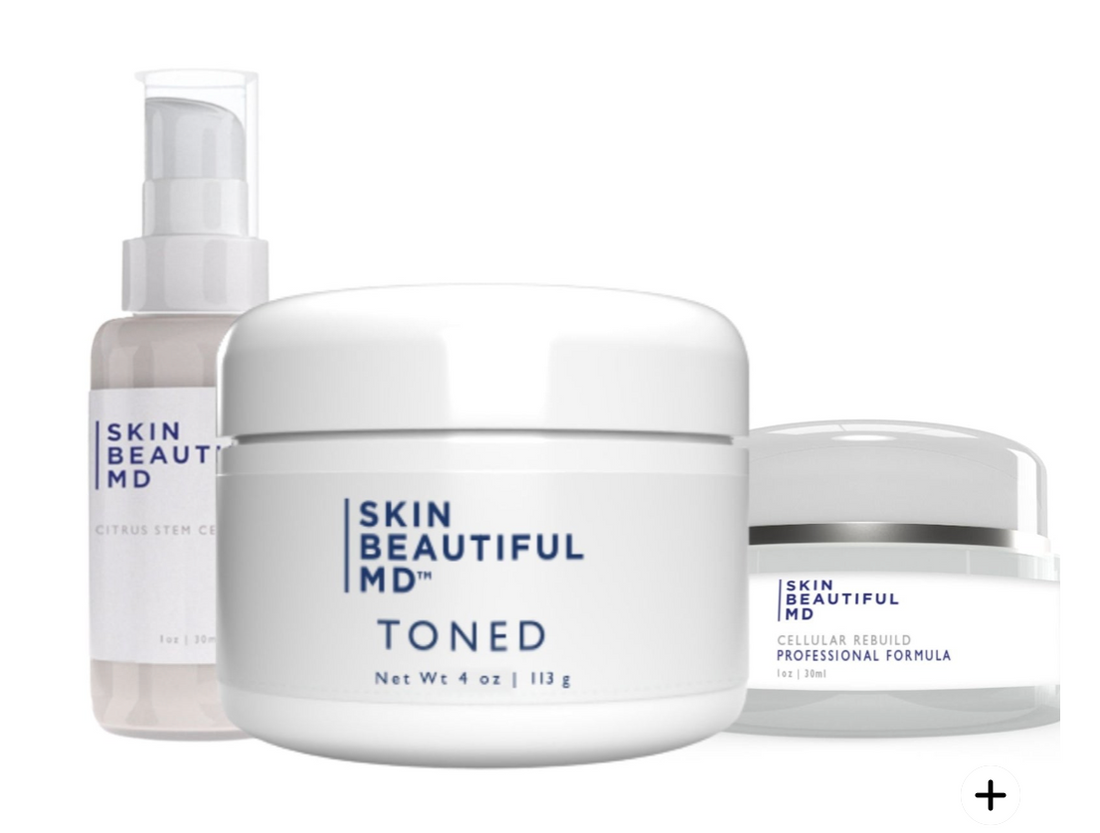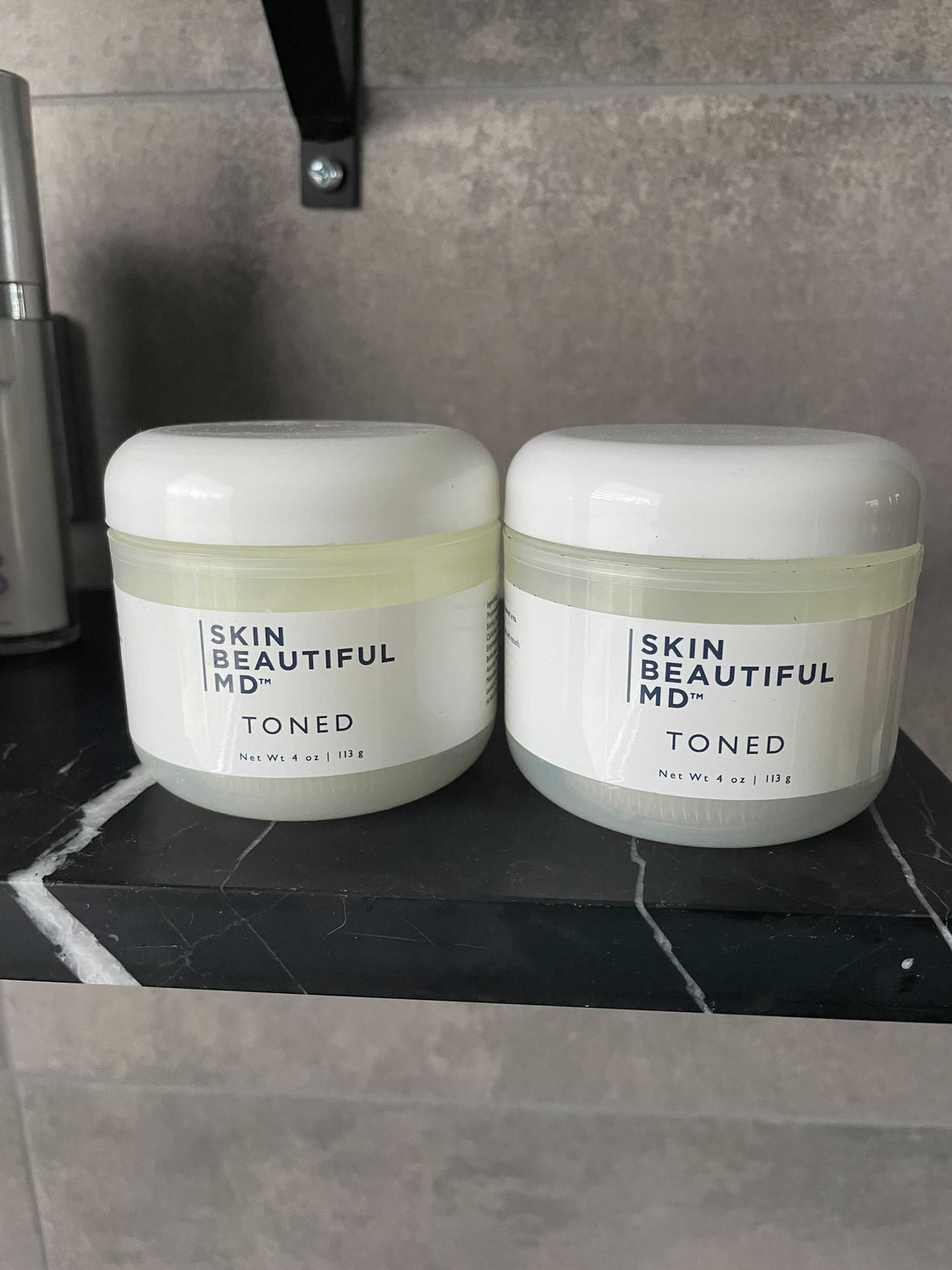 Skin Beautiful MD Toned Trio: Ultimate Neck and Body Care Pack (30 Day Supply)
Quickly smooth and tighten your neck/face/body with the ultimate trio for skincare.  

TONED was specifically formulated for areas of skin below the face that need tightening.  

TONED also helps to remove excess fat from the skin, which is they secret key to keeping a tight and TONED neck.  No excess weight in skin, no gobble!




CITRUS STEM CELL MIRACLE is a cutting-edge formula that evens tones and restores elasticity.


NIGHT AND DAY CREAM will hydrate and rejuvenate skin by rebuilding on the cellular level.
Use these products as part of your morning AND evening routine. Use each product sparingly, since they are powerful and a little will go a long way.
Start with the Day and Night Cream to moisturize your skin down to the deepest layers and start cellular regeneration. Then, use the citrus stem cell miracle serum to improve the elastin levels and bounce the skin of your neck back into place, reducing neck wrinkles. Finally, finish up with TONED to tighten the skin without irritating it.
You may feel tempted to use the products a lot because they make the skin feel so good. But, resist the urge! These products work best when you use them twice a day every day.
Just like most healthy and hygienic routines, the best results come with consistency over time.

Sourcing key ingredients from European labs, we've created a line of products that are so good, we offer a 100% money-back guarantee if you haven't seen results after 4 weeks of consistent use.
Our completely unique trio uses the most cutting-edge technology for skincare in the beauty industry.
Night and Day Cream to soften and soothe
When it comes to the skin on your body, you want to find a product that will penetrate your skin's layers for deep moisturizing action. So many products just create a coat on the top layer of skin and don't do much more than suffocate it.

This product is practically magic on your skin.

Night and Day Cream was the first line we created because other skincare products just weren't cutting it. Using the best ingredients we could find, we've created a masterpiece that costs a fraction of its high-end peers.

GluCare from Germany revitalizes the skin's defenses, soothing the skin and starting the repair process. Argireline from Barcelona is a natural alternative to Botox that softens skin and eliminates wrinkles. Lipogard from Switzerland reduces oxidation and protects the skin from environmental damage. Pentavitin is also sourced form Switzerland and locks in moisture to balance skin hydration. Trylagen-PCB combines proteins and peptides, increasing collagen levels by 80-300% in 15 days.
Stem cell technology from oranges to replenish elastin
Restoring the elastin and collagen levels within your skin will help your skin stretch and reform quickly. This helps reduce lines and wrinkles that are caused by the skin loosing elasticity.
The Citrus Stem Cell Miracle serum has an incredible smell from Caribbean Orange Oil and is packed with super nutrients.

Plant stem cell technology from Barcelona, Spain is part of what makes the serum so effective. The Citrus Stem Cell Miracle serum provides:
▪ A more even skin complexion
▪ Improved natural glow
▪ Firmness and line reduction
▪ Fewer wrinkles and sagging
▪ Sun damage repair
▪ Skin cell growth and rejuvenation
TONED will help tighten the skin on your body
Many of our customers were telling us they loved our facial line so much, they were using the remnants of the products on their hands and neck. So, we set out to create a lotion perfect for the skin not on your face.
The face gets so much attention, we decided we needed a specialty lotion that was designed for the neck, chest, arms and legs.
TONED is able to:
▪ Tighten the skin, reducing crepeyness and sagging.
▪ Boost lipolysis by 57% so your body uses more fat.
▪ Slow fat storage nearly to a halt, lowering it by 96%.Lessen the appearance of cellulite with less fat storage.
▪ Smooth and hydrates dry skin for a youthful vigor.
The Power of Peptides and Stem Cells
Maybe you've heard of one or both of these ingredients. They are both newer technology and are derived from plants for our purposes.

Because of how powerful they are at delivering results, they aren't cheap. But, we've worked to source them as efficiently as possible and offer them to you without a ton of upcharging.
Chemists all over the world are using peptides to help send messages to your body. These micro messages tell the cells how to behave, including increasing their collagen and elastin production.
Stem cells have been shown to promote the production of collagen as well. They can also prevent the damage of the sun and stop wrinkles.
There is a lot of data out there that proves these ingredients work.

The research is great, but what we really care about is the perspectives of our customers. And, we are hearing rave reviews!
These products really work and people just keep coming back for more.
Reduce Signs of Premature Aging
Aging is a good and beautiful thing—but premature aging isn't.
Embrace your age and love the skin you are in. But, take care of that skin because you only get one.

From the destructive UV rays of the sun to harsh soaps and chemicals in our daily lives, our skin has to put up with a lot of damage.
One of the first places you will show visible aging in the skin is your face. But, your neck and chest take a close section.

If your face is dry, cracked, leathered, heavily lined or sagging, then you will look even older and less healthy than you are. Makeup can only do so much if the underlying skin is heavily damaged.
If your face is moisturized and tightened with the right beauty routine, then it will look fresher and younger—even when you aren't wearing any makeup at all!
We've built our business on the science and for the women who don't want to spend another minute looking older, sicker or frailer than they really are.
Are you ready to try it out and look your NATURAL best? We're here to help. Order Now!